Using participatory research to help guide remote care practices
A recent study from Western University's National Centre for Audiology offers clinical implementation guidance around the application of remote hearing aid support. Dr. Danielle Glista shares 6 main factors to consider.
With rapid innovation in technology-driven hearing healthcare applications, comes the ability to deliver services in more equitable, efficient, and person-centered ways.
Remote support technology is now accessible to hearing care providers. This has enabled the delivery of hearing aid support services to clients from a distance, and the ability to connect family members, other health professionals, and educational support personnel, all in one remote appointment. This connected health model of care offers great potential to break down geographical barriers, social distancing requirements, and other challenges limiting access to audiological care.
Our collaborative research with audiologists
A recent study from Western University offers clinical implementation guidance around the application of remote hearing aid support.1 This study, incorporating participatory research methods, focused on a research-to-action approach using knowledge generated in direct collaboration with audiologists.
It used concept mapping methodology, which involves a structured process to obtain input from multiple participants to produce an interpretable pictorial view of ideas and concepts and how they are interrelated.2
Main take away points
Six main concepts were revealed to influence the clinical uptake of remote hearing aid support services (illustrated below):
Technology & infrastructure: accessibility, reliability, efficiency, and support of required technology
Provider-centric: audiologists' abilities and aptitudes in providing care remotely
Hearing healthcare regulation: best practices and regulatory considerations in the delivery of safe and high-quality care
Client-centric: ability to access and navigate services appropriately, while considering individual needs and preferences
Clinical implementation: ability to deliver timely and flexible hearing care services considering practice context, scheduling, and clinical workflow factors
Financial factors: client reimbursement, supplemental costs, and organizational attitudes
Findings from this study also suggest that pediatric-focused audiologists place a high-level of importance on the availability of best-practice standards, guidelines, and/or protocols to guide areas of practice when delivering services remotely. This included topics such as informed consent, privacy and security, and hearing aid fitting practices.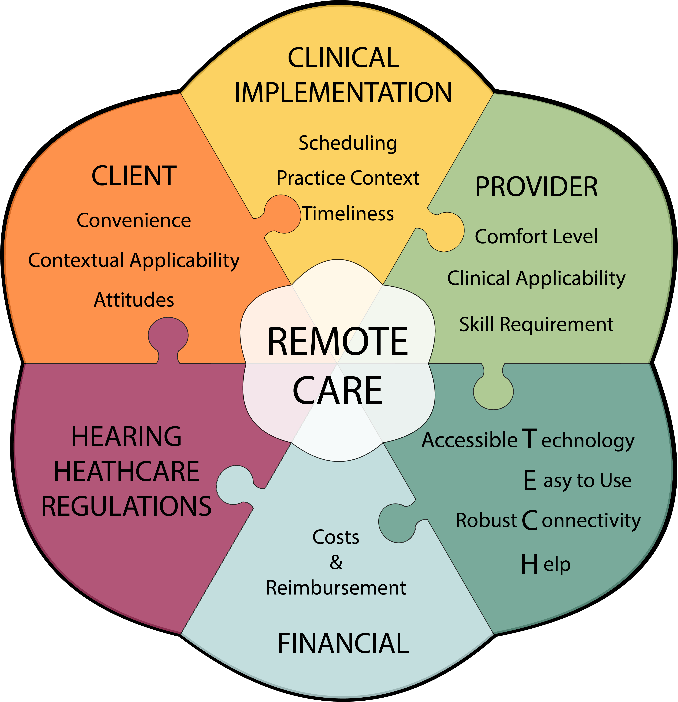 Benefits of collaborative research
Participatory research methods can therefore help researchers more deeply engage stakeholders, allowing research to benefit from the collective wisdom of both researchers and affected communities and, in turn, create more meaningful findings that translate to action.3
The highlighted work sheds light on factors to consider when assessing implementation readiness around remote care: a dynamic and multidimensional construct, that will continue to evolve according to each unique practice context and the challenges presented within.
As we continue to learn and embrace the full potential of a connected hearing healthcare model in the field of audiology, collaborative research efforts can help direct future planning, development, and implementation efforts that break down barriers and embrace facilitators to remote care.
If you would like to read Dr. Glista's full article in the Connected Health supplement in the International Journal of Audiology, you can access it here. The supplement, sponsored by Phonak, is open access for all.
References:
Glista, D., O'Hagan, R., Moodie, S. T. F., & Scollie, S. (2020). An examination of clinical uptake factors for remote hearing aid support: A concept mapping study with audiologists. International Journal of Audiology, 1–10. https://doi.org/10.1080/14992027.2020.1795281
Trochim, W., & McLinden, D. (2017). Introduction to a special issue on concept mapping. Evaluation and Program Planning, 60, 166–175. https://doi.org/10.1016/j.evalprogplan.2016.10.006
Vaughn, L. M., & Jacquez, F. (2020). Participatory Research Methods – Choice Points in the Research Process. Journal of Participatory Research Methods. https://doi.org/10.35844/001c.13244