The latest generation of Roger On™ makes online calls easier
Learn how the 'headset mode' in Roger On V2 makes it an ideal choice for making online calls.
While Roger On was designed to primarily help people with hearing loss understand speech in challenging listening situations, the COVID pandemic revealed another use case – online calls. Because the device is not only a microphone but can stream audio from a computer, people started using their Roger On to hear better during online meetings and when video calling friends and family.
But, back then, there were challenges when there was surrounding noise. I remember when I was working from home, I had to tell my kids to be quieter when in meetings, as my colleagues on the online call could hear them as well.
When I used my Roger On to stream the voices from the online participants to my ears, the computer microphone was picking up my voice (and the voices of my kids), not the signal from my Roger. It was a paradox, since I had a device with integrated microphones and noise reduction algorithm, but I could not use those microphones during an online meeting.
I asked engineers at Phonak if it would be possible to send the signal from the Roger On microphone via USB to the computer. They said that this was possible but would require some technical modifications.
Thankfully, they were up for this challenge. Now, 20 months later, the latest generation of Roger On comes with an aptly named 'headset mode.'
Benefits of headset mode
During online calls, in addition to streaming the sound from the computer to hearing devices, the integrated microphones of Roger On V2 remain activated. Simply put, it works as a headset allowing you to use the microphones when online.
Here are 3 ways I use Roger On V2 during online calls without worrying about it picking up surrounding voices and noise:
Placing Roger On flat on my desk. Flat placement of the device enables MultiBeam mode which picks up my voice from all directions (allowing me to move freely around my desk).


Placing Roger On with the stand on the desk. When placed with the stand, Roger On points in my direction and picks-up my voice only and reduces the noise from the kids or kitchen.


Clipping Roger On onto my shirt.  When clipped onto my shirt, the device forms a short directional beam that points upwards to my mouth and provides the best speech pick up of all three modes.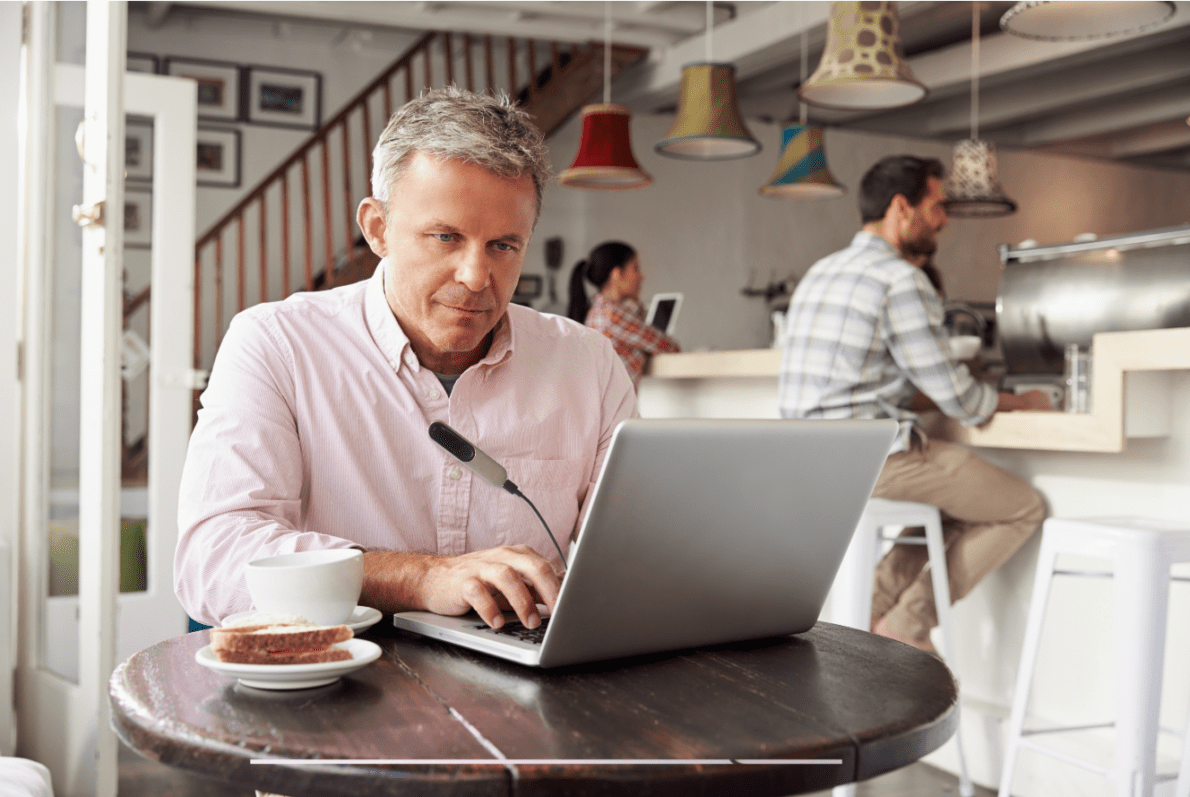 With the second generation of Roger On, your clients can participate in online calls wherever they are thanks to its noise reduction and directionality. All they need to do is plug Roger On via the USB cable into their computer or place on a table and they have a handy headset.
To learn more about Roger On, we invite you to read a previous article, Roger On won multiple awards last year. Here's why and visit our product pages.