Roger On won multiple awards last year. Here's why
Once we asked customers what they wanted, we were able to build a product that Time Magazine named one of the best inventions of 2021.
Last year was a big year for Roger™ technology.
Our recently launched Roger On microphone received a lot of accolades in the hearing industry. It won a German innovation award, two design awards (IF and Red Dot design awards) and was named one of the 100 best inventions of 2021 by TIME magazine.
So how did we succeed in designing an award-winning wireless microphone that met both customer needs and product design innovation? Well, it happened when customers told us what they wanted . . . and we listened.
When we initially planned a new design for the successor of the Roger Pen (which we launched back in 2013), we thought we would simply evolve from Roger Pen to Roger Pencil. In our first meetings, this is what our team thought end-users would want – a wireless microphone that resembles a slim pencil.
We were wrong.
Why not a Roger Pencil?
Once we surveyed customers, their feedback told us something different. We learned that a pencil-shaped wireless microphone checked off the 'discreet' box, but customers also noted some drawbacks, such as:
"The shape will not make it easy to operate the device."
"Others will play with the device because they think it is a pencil."
"I will not find it in my bag amongst other pencils."
So, we asked them what was important to them. They told us that in a new design, they wanted: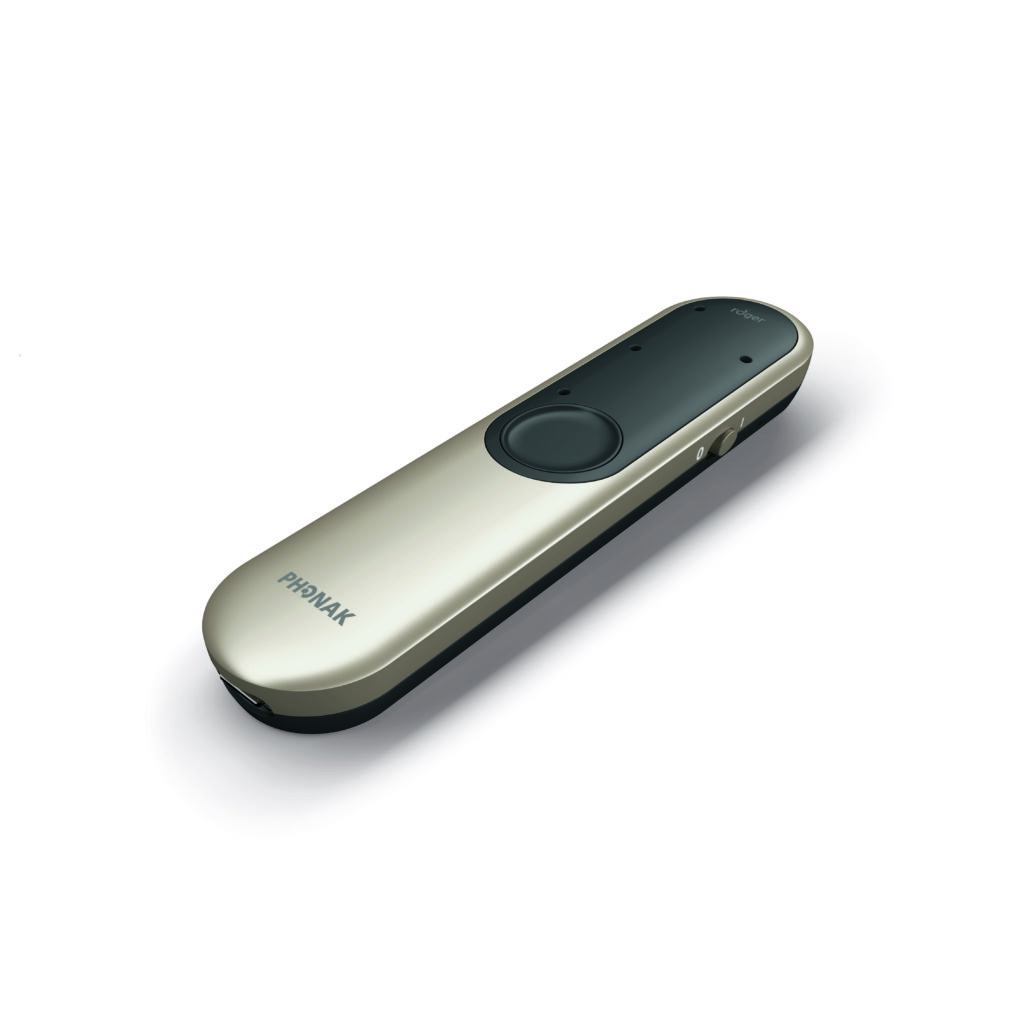 Flat and stable for table use
Long and grippy to be held safely
Compact and with a functional clip for body worn use
Clear and distinct design that cannot be mistaken for other everyday tools
Easy-to-use controls and display for visual status feedback
So, in the end, a more elongated shape was designed, with an easy to access center button, a display, a stable hold when placed on the table and an integrated clip that allows users to clip on the microphone.
What does Roger On do for its users?
Research shows that 30% of hearing aid users struggle to hear in noise and over distance1, and wireless microphones help them better understand more speech in challenging listening situations.2
And, there are a lot of challenging listening situations in our everyday life. For example, dining in restaurants, conversing at a cocktail party, listening to a lecturer, participating in an aerobics class, driving a car with people sitting in the back and even listening to television. The new Roger On can help in all of those situations.
With the elongated design, there are 4 different ways to use Roger On
Below is an illustration depicting the different use cases. Thanks to an accelerometer, the device knows its use case and automatically applies the best microphone configurations. The display gives users easy-to-understand feedback through an icon-based user interface.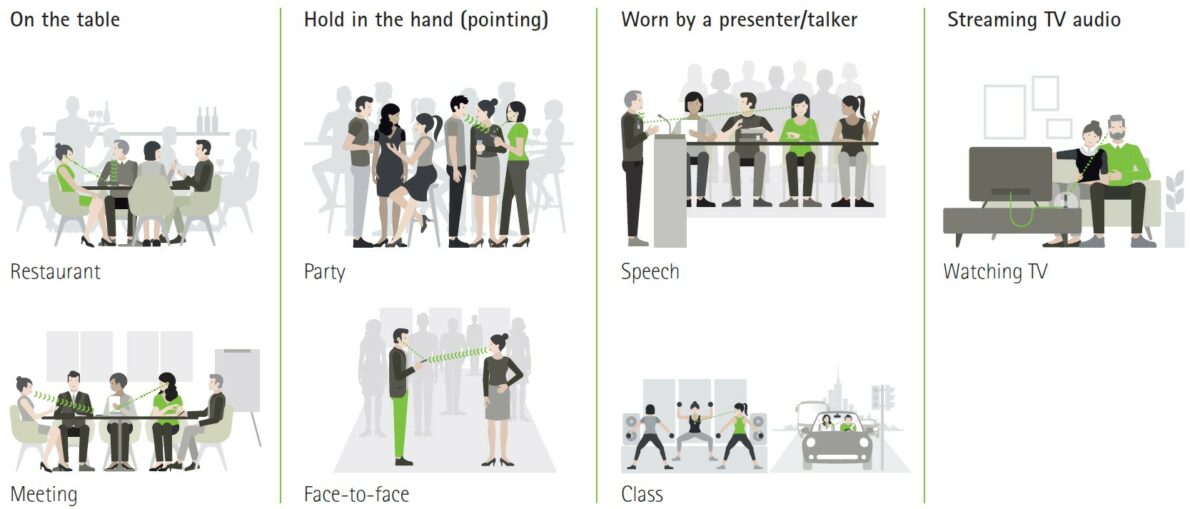 Your clients can customize their own microphone settings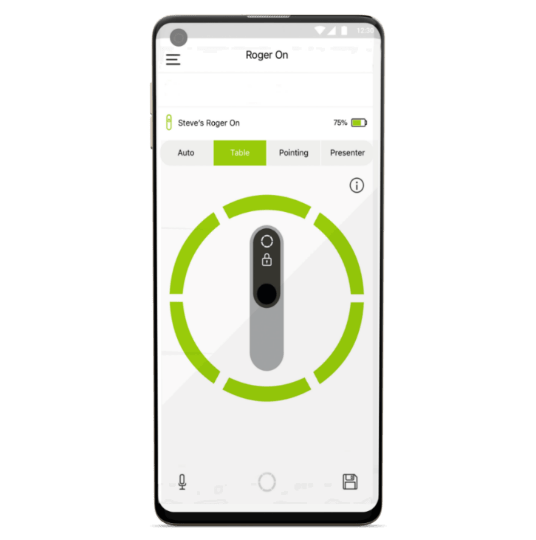 We are excited that our new design is being recognized, but our excitement doesn't end there. We are also happy that users can use an app to access more advanced settings or to remotely change the mode. With the myRogerMic app, your clients can control their Roger On from their smartphone.
It allows them to customize their microphone settings according to environment and personal preferences. With the app, they can:
Steer the direction of the beam(s) towards the speaker(s) you want to listen to
Change microphone mode
Mute / unmute
Check current device status such as battery level and actual microphone mode.

4 more benefits to share with your clients
Other than design, there are more perks for your clients who want the flexibility to focus on conversations at work, in lectures or with friends.
It's fully automatic so switches automatically between different microphone modes depending on if used on a table, clipped on clothing, or held in hand.
Pointing mode 2.0 uses three microphones in a row allowing your clients to focus on one person talking in a group conversation when background noise is present.
The device has a IP54 rating which means it is protected against splashes of water.
It can connect with other Roger microphones to create a multi-talker network (e.g., making it ideal for large meetings).
---
Learn more about our Roger premium wireless microphone portfolio:
References

1 Abrams, H. B., & Kihm, J. (2015). An Introduction to MarkeTrak IX: A New Baseline for the Hearing Aid Market. Hearing Review, 22(6), 16.

2 Thibodeau, L. (2014). Comparison of speech recognition with adaptive digital and FM wireless technology by listeners who use hearing aids. American Journal of Audiology, 23(2), 201-210.