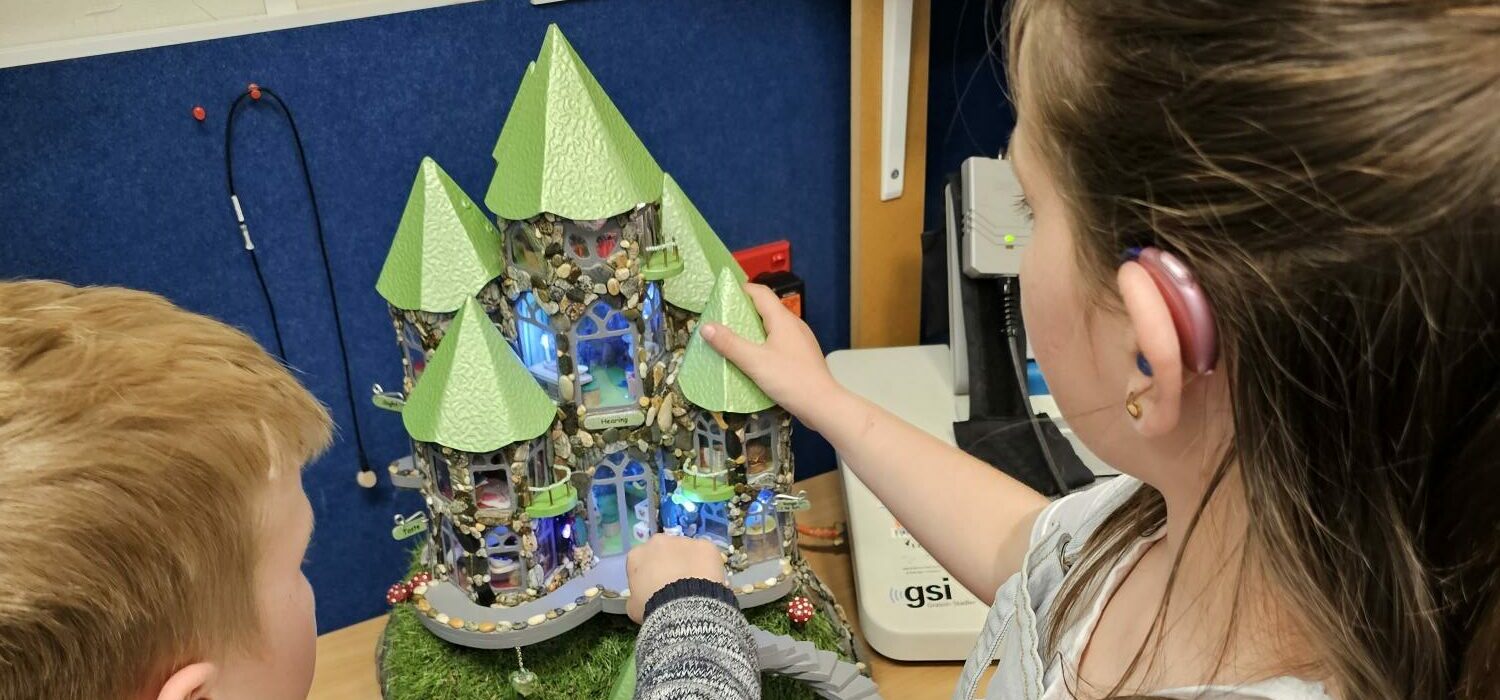 Phonak Fairy Castle enhancing the hearing journey for kids in New Zealand
Children visiting pediatric audiology clinics in New Zealand are experiencing a wonderful surprise these days. The Phonak Fairy Castle is traveling to different clinics to spark their imaginations and make them feel proud of who they are.
Although improving, the unwillingness some adults have to wearing hearing aids continues and is perhaps most well-reflected in the average 7-9 years delay to seeking help with hearing loss. 1,2 As any pediatric audiologist will tell you: it's not just adults who are hesitant.
Encouraging children to wear their hearing aids also has its challenges, and these can be both physical (e.g., ear size/anatomy, retention, comfort, feedback) and also socio-emotional, including self-image. Hearing aid use in children with hearing loss is extremely important because the ears act as a doorway to the brain for auditory information3, and there is a critical period for brain development within the auditory centers, after which the door effectively closes.4
A previous Sky campaign captured this Doorway analogy, providing imagery of a fairy tale land to engage kids and spark their imagination (see Figure 1).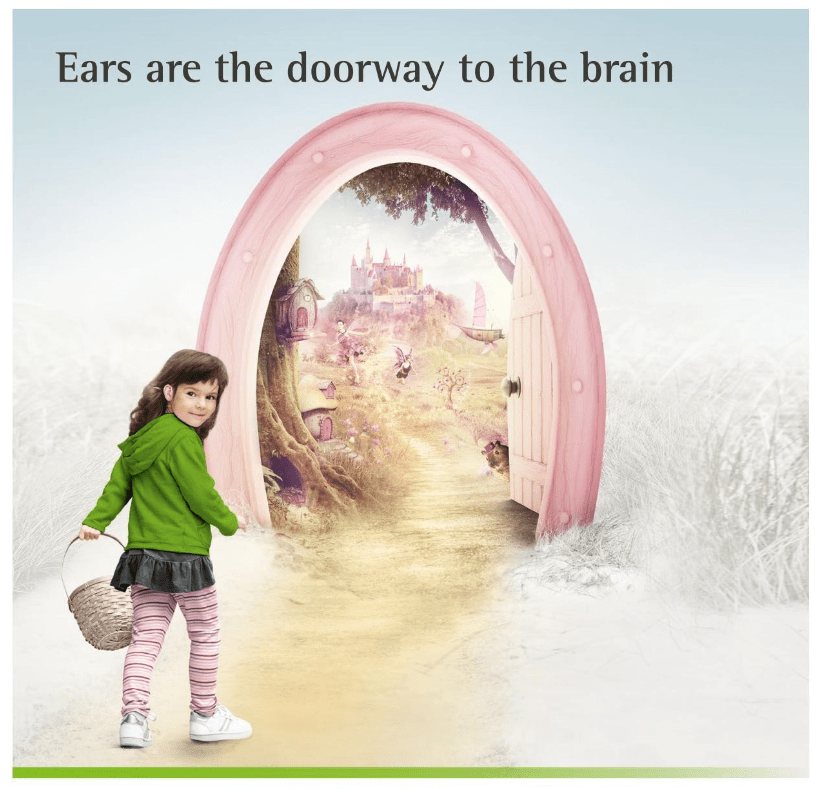 'Local Fairy Godmother' handcrafts Phonak Fairy Castle
With the Sky Lumity launch, we wanted to take children's engagement and imagination to the next level. We capitalized on the talents of Joanna Lyes, wife of recently retired Sonova WHS employee Rex Lyes, who hand-crafts fairy houses, earning herself the title of 'Local Fairy Godmother' for her creations that are dotted throughout a park in Auckland, New Zealand. And thus, the Phonak Fairy Castle was born (Figure 2).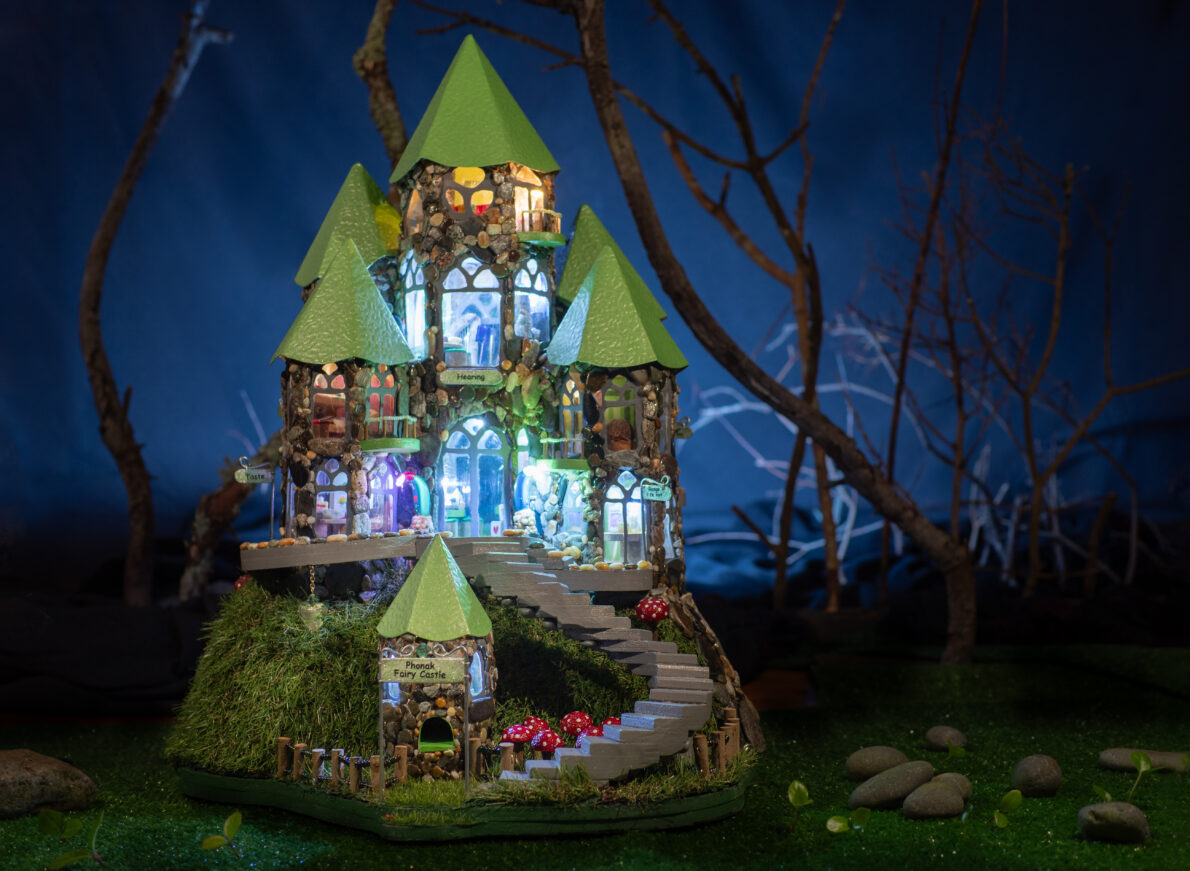 Each tower within the Phonak Fairy Castle represents one of our 5 senses, and because hearing is a 'hidden sense' that is often under-appreciated / taken for granted, the sense of Hearing is the main tower. Signs for each sense appear in both English and Te Reo Maori, as both are official languages of NZ.
Moreover, its central location reinforces the importance of hearing for oral language acquisition, which in turn, enables expression and helps give a complete description of information provided through all the other senses.
Ways the Fairy Castle is engaging kids and families
1. Makes visits to the clinic fun and educational
Firstly, clinical environments can be scary for kids. So, each tower has a clinical setting, outlining some of the things involved in assessing and helping each sense. For hearing, there is an audiometer and ear diagram (Figure 3-A), Phonak's Leo Mascot and the familiar sounds audiogram (Figure 3-B) and our beautifully coloured Sky L hearing aids and Roger™ (Figure 3-C). This can be talked through with kids to help put them at ease.
2. Helps kids (and family) know what to expect
'Leo gets hearing aids' storybook is another tool to support children and their families, outlining the steps they will go through along their hearing journey. We love it, so included a TV connector and speaker unit inside the base of the Fairy Castle and asked 'New Zealander of the Year 2020' Jennifer Ward-Lealand to read and record the story!
Kids can connect their Phonak hearing aids to the Fairy Castle with the simple press of a button and read along with Jennifer (we put the speaker inside too so envious siblings and parents can also hear the story!).
3. Highlights all 5 senses, not just hearing
By including all 5 senses we show children and their families that an issue can occur with any of the senses and require help. If it happens that a child needs help with hearing, then this is a part of who they are. The Fairy Castle can help them feel proud of themselves and the hearing technology they use to reach their best potential.
4. Gives kids an opportunity to be creative
Lastly, we wanted to spark children's imaginations. That is why there are no fairies to be seen in the Phonak Fairy Castle. This is left up to the imagination of the children. We thought it would be cool to ask children to draw a picture of what their hearing fairy looks like. We already have some fabulous submissions (see Figure 4). The pictures will be entered into a draw from which we will select 12; one for each month of our Phonak 2024 Calendar.

We hope that the Phonak Fairy Castle helps support children and their families with hearing loss, both through their hearing journey, and to realize that issues can happen with other senses too, and if they require hearing aids, kids should be proud of who they are. We look forward to sparking their imaginations … and hopefully those of their HCPs as well, to find fun and creative ways to engage their young clients …. Afterall, with Lumity 2.0, the Sky really is the limit!
---
References:
Hearing Loss Association of America. Retrieved from LINK. Accessed October 6, 2023.
Simpson A. N., Matthews L. J., Cassarly C., Dubno J. R. (2019). Time from hearing aid candidacy to hearing aid adoption: A longitudinal cohort study. Ear and Hearing, 40(3), 468–476.
Le Roux, K. Ears are the Doorways to the brain. Phonak Audiology Blog. Retrieved from LINK. Accessed October 6, 2023.
Friedmann, N. & Rusou, D. (2015). Critical period for first language: the crucial role of language input during the first year of life. Current Opinion in Neurobiology, Vol. 35, 27-34. Retrieved from LINK. Accessed 6/10/2023.