One Size Does NOT Fit All!
Customizing the fine-tuning experience for hearing aid users.
In our world of digital transformation and increasing technology, consumers can have almost any product or service customized. We have gone from the age of mass production to the age of mass personalization. We can customize our social experiences, our computers, our vacations, our clothing- we can even customize our soft drinks! So why shouldn't we have the ability to customize our hearing aid responses in certain environments?
As a clinical audiologist, how many times have I heard hearing aid patients say, "Well, the hearing aids always sound good in the office, but once I go into (fill in the blank), I can't hear as well"? We can adjust hearing aids for a general environment during a clinical visit, but a smart phone app designed for making self adjustments to hearing aid settings allows the patient to fine tune their hearing aids to a particular place at a particular moment in time. The patient may decide they want to save that setting and use it again in a similar environment, or they may just temporarily adjust the hearing aids to meet their needs at that moment. That's the beauty of the app…the patients start with an appropriate fitting as a solid foundation, and from there, they can adjust when and if the need arises.
In a recent study done at PARC and Sonova HQ, we evaluated hearing aid users' interactions and attitudes towards a fine-tuning smart phone app. Twenty two participants were fit with the newest generation of Audeo B RIC devices, and given a prototype app to use over the course of five weeks. Once the participants had the foundation of a good first fit, they were encouraged to create custom settings using the app for challenging and difficult situations.
The participants tended to leave their hearing aids in the AutoSense setting most of the time, but when presented with a difficult listening situation, the ability to adjust their hearing aids themselves typically resulted in reports of a better experience.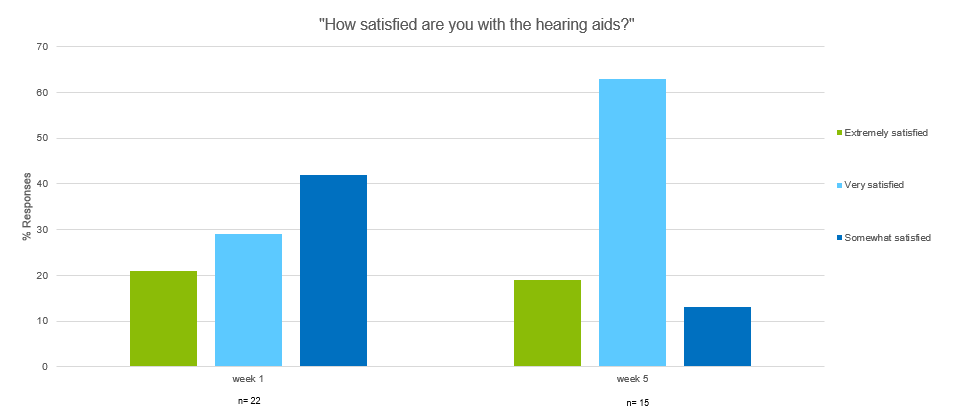 The most common environments in which the users created customized settings were for speech in noise, TV watching, and music. As proponents of Autosense, we may ask why the app would be necessary when AutoSense not only incorporates specific programs for these settings, but is capable of blending the programs so they are unique to an environment? We already know from previous studies, that AutoSense does what it is intended to do, and does it well. However, the variety of settings was so expansive and unique to each individual, that there were times when they wanted a little 'tweek', i.e. more high frequency when speaking with their young grandchild or more noise reduction when at band practice. The app allowed them to make specific adjustments with confidence and ease.
The app may not be for every patient. There are hearing aid users who prefer to 'set it and forget it'. In these cases, fitters can be confident that AutoSense is delivering superior performance and reliability. However, for those patients who wish to be more active in their hearing health care, the ability to fine tune their own hearing aids may make the difference between liking their hearing aids and LOVING their hearing aids!