How a team can help a student be a better self-advocate
New classroom resources available that empower kids to talk about their hearing loss and educate those around them in a fun and interactive way.
My daughter, Lucy's, relationship to elementary school is pretty typical. She does her homework with a grimace. She plays at recess with gusto. She chooses her outfits with careful consideration. My reaction to having an elementary age child may also be typical. I offload math homework help to my husband. I pack lunches late at night. I grudgingly do laundry to keep my fashion-forward daughter happy. I may also be typical in this… I worry about her during the school day. I fear my daughter's hearing loss creates barriers in her school life.
Every summer, before school starts, I tick off my laundry list of anxieties: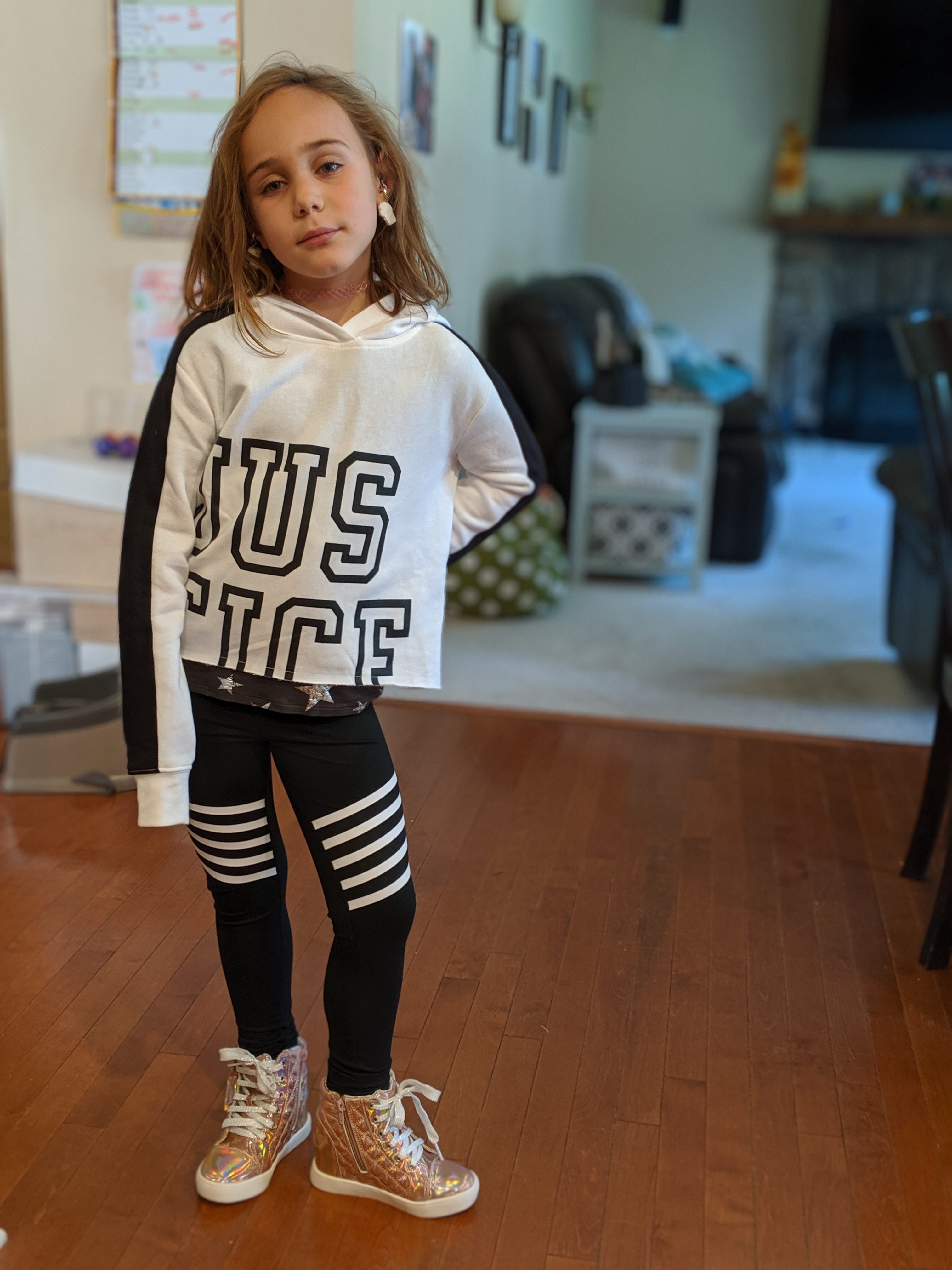 Will the teachers this year be as supportive to my daughter as she needs?
Do I know how to accommodate without being overbearing?
When it comes time to ask for more, will I say the right words to be understood?
And this is me – a marketer who has the good fortune of working with audiologists – I mean if I can't figure this out, what excuse do I have?!
Figuring out a student's needs
But when it comes to helping kids with hearing loss succeed, it's not just well-articulated accommodations in the IEP and not just parent advocacy. There is a whole crew of people on "Team Lucy." She has a hearing itinerant who keenly observes needs and playfully creates change. Lucy has willing, mainstream teachers doing everything possible to accommodate my daughter. She has a clinical audiologist providing a well-fit hearing aids. And she has herself. As the classroom demands increase, each of those individuals is critical to her overall success. All of us together, help my daughter have the tools needed to accomplish her goals in a whole slew of situations.
But it is kind of astounding to me that the quarterback of this team is a seven year old. Yes, she has a big personality; her dreams are in high-definition; and her laugh is infectious; these are all great traits for a quarterback. But she still is only seven. Seven! Finally, I understand why the self-advocacy goals are on her IEP. Lucy has to be the one to identify if something isn't working.
A new classroom resource to help kids self-advocate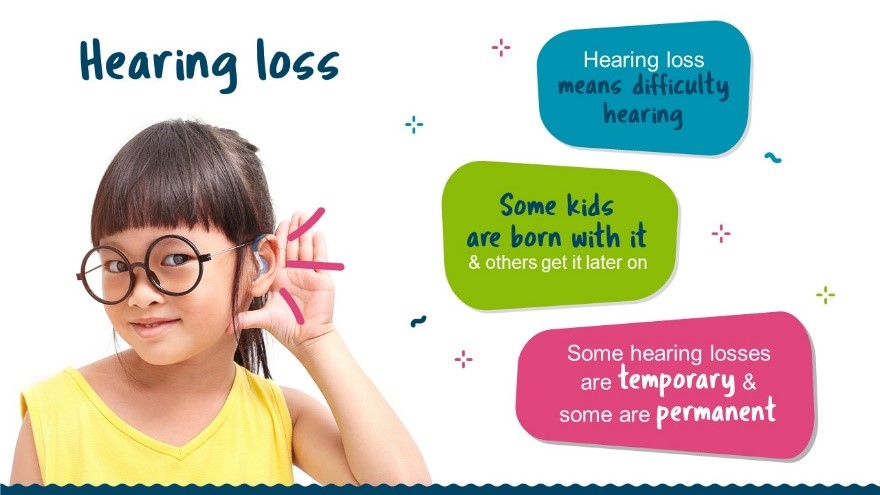 When Phonak created a new PowerPoint template to give students fun facts about hearing loss, my inner mom gave a sigh of relief. Now, there is a playful way for students to build the language and comfort in describing what hearing loss is and how it impacts them in the classroom.
The 'Hearing and me' templates come in two versions: one for elementary students and one for tweens. They are customizable and thirty slides long. Included are colorful animated images and kid-oriented videos.
It addresses topics like "types of hearing loss," "how we hear," "how hearing aids or cochlear implants work" and "what is Roger." And for our blossoming quarterbacks, there are slides that includes "tips that will help me hear you."
Now, my motherhood and school anxieties around finding the right words can diminish. This template gives my daughter a talk track for her to share with those on 'Team Lucy' to the WHY behind her IEP. It's another step in their self-advocacy journey.
Can be customized and personalized
My daughter isn't able to read all the words in the PowerPoint; so, this year, we may use this template in a different way than a few years from now. But I'm taking this opportunity to find ways to partner with Team Lucy to drive new ways for her to build understanding and expand her comfort in talking about her hearing loss. Regardless of the age of the students you work with, this template is designed to help students feel proud of their hearing technology and empower independence.
Go to the Phonak classroom resources webpage to find the "Hearing and Me" templates. After you review them, perhaps there will be students that you think this tool will be valuable to. You'll notice that there is a place for your students to include their picture, customize the slides to their hearing loss type and even include their audiogram. This is meant to facilitate a personal story! These templates are now available in 11 languages.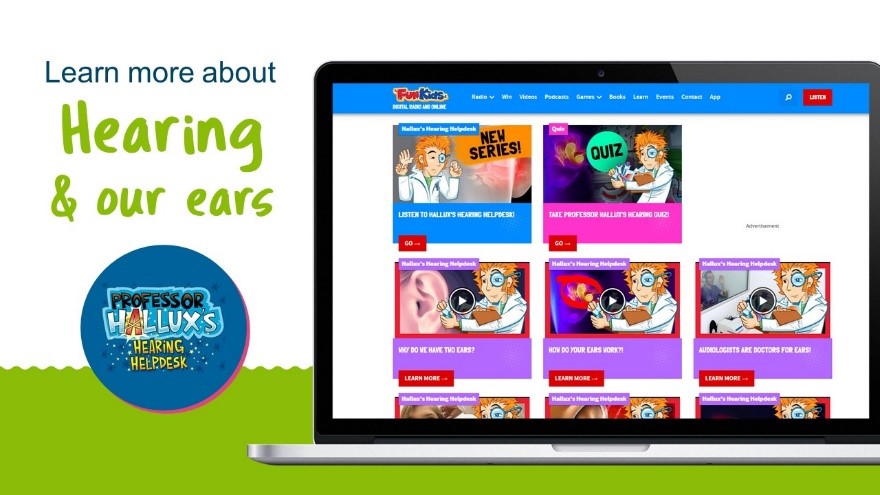 More free classroom resources
Additionally, if peers in the class are interested in learning more about hearing related topics after the presentation, we recommend: Professor Hallux; Hallux's Hearing Helpdesk videos which cover topics such as "Dangers to hearing", "Why do we have two ears?" and "Structure of the ear" in an animated and fun way. These videos are also highlighted in the template.
Whether or not your inner self is signing in relief like mine, visit the Phonak Phonak classroom resources webpage to find the tools Phonak has created to help your young clients start this school year out on top of their game.
Go Team!
This idea of collaboration across "Team Lucy" intrigues me. How do we help children evolve in their own understanding to be their best advocates? What are ways that we can further improve collaboration between the school and the clinic? How can we help administrators understand the fundamental barriers and needs of students with hearing loss? And how can all the "Team Lucy's" out there be the best forms of themselves?
If you have any suggestions, or just want to wax philosophical on this idea, I welcome your thoughts. Comment below or send me an email at whitney.spagnola@phonak.com.