Why you should include hearing protection as part of your services
Over a billion people around the world are estimated to be at risk of noise-induced hearing loss. Find out what 6000 surveyed people prefer and why Phonak Serenity Choice™ is the ideal solution.
Noise exposure is part of our daily lives.
According to the World Health Organization, 1.1 billion people are estimated to be at risk of noise-induced hearing loss around the world.1 In the United States alone, 22 million workers have reported hazardous noise in the workplace.2
With 17% of the U.S. workforce experiencing this level of noise exposure, we are determined to be part of the solution with our new line of universal hearing protection, Phonak Serenity Choice.
You may ask – why should I as a hearing care provider include hearing protection as part of my services?
First, a recent survey of more than 6,000 individuals with an interest in hearing loss prevention3 showed that hearing care professionals were chosen as the preferred channel for hearing protection.
Second, our commitment as hearing care providers needs to extend beyond the audiogram. As an audiologist myself, I find it's integral to look at the patient holistically and make sure they have solutions that support their daily lives.
Third, adding hearing protection services gives you the opportunity to target a wider and younger audience and engage with them for their entire hearing healthcare journey.
What makes Phonak Serenity Choice the ideal solution
Phonak Serenity Choice is a set of hearing protection products that consist of a universal thermoplastic elastomer plug along with our patented* mesh and membrane filters. It allows for situational awareness and speech audibility while still attenuating unwelcome sound.
Adding another layer of comfort, our special design ensures the ear remains vented making it an option for everyone.
Phonak Serenity Choice has six products built to support your patients that enjoy music, hunting and shooting, motorsports, work, sleep, and comfort.
They include:
Serenity Choice Music is designed for musicians, music lovers, and concert goers. This option offers 10dB NRR (more options available for Serenity Choice plus) of attenuation using our patented membrane filter technology.  It provides a tuned, flat attenuation response so all frequencies are reduced by almost the same level. This aims to make the music sound as natural as possible. In fact, Serenity Choice Music has been shown to outperform its competitors with regards to sound quality.4
Serenity Choice Hunting & Shooting provides protection from high impulse noises such as gun shots, artillery fire, and explosions. When no sound peaks are present, this option will provide a low attenuation allowing voices and background noise to be heard making this the perfect solution for avid sportsmen.
Serenity Choice Motorsport is designed to reduce wind noise, making it a desirable option for motorsport hobbyists. At higher speeds, riders are exposed to excessive noise through turbulent airflow around the helmet.5 This option reduces the effects of that wind-noise.
Serenity Choice Work is designed for noisy work environments such as factories, farming, construction and DIY/gardening with the ability to reduce the sound level by 9-16dB NRR. For very loud situations, this option can be combined with earmuffs when extra the protection is a requirement.
Serenity Choice Sleep is designed for those that have a chronic snorer in their life! Moderate snoring ranges from 50-60dB and a severe snorer can reach 90dB. This option will reduce the sound level by 16dB NRR reducing sound down to a non-intrusive level sending wearers back into a peaceful sleep once more.
Serenity Choice Comfort is our sixth option is designed to reduce constant noise in an open-office environment. Whether it's the hum of an air conditioner or consistent telephone ringing, this option has filters that provide sound reduction for a more comfortable environment.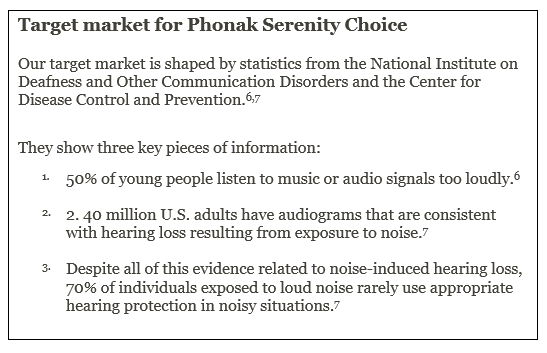 How you can add it to your practice
Adding hearing protection into your practice is simple. Each Phonak Serenity Choice universal option comes with small, medium, and large ear tips ensuring a good fit for a variety of patients. The universal plugs offer comfort and durability while our filters preserve situational awareness and speech audibility while delivering situation-specific noise attenuation.
It is available to purchase directly through the Phonak Store. Marketing support is available from Phonak, and we've made it easier than ever with our Phonak Serenity Choice marketing communication kit.**
Products are budget-friendly and come with a 2-year warranty, giving your patients peace of mind as they protect their hearing.
Whether your patients prefer the custom fit of acrylic or silicone or the efficiency and simplicity of a universal option, these products enable you to offer a broad portfolio of hearing protection and showcase your professional commitment to the prevention of hearing loss.
To find out more about Phonak Serenity Choice™ head to www.phonak.com.  Custom options available June 2021.
* US patent number: US 8,689,931 B2
** Serenity Choice communication kit consists of digital marketing pieces for your website, social media channels, and email as well as print options designed for display and in office use.
References
World Health Organization (2020). Deafness and hearing loss: Key facts. Retrieved from


https://www.who.int/news-room/fact-sheets/detail/deafness-and-hearing-loss, accessed June 1, 2021.
Centers for Disease Control and Prevention (2018). Noise and hearing loss prevention. Preventing hearing loss caused by chemical (ototoxicity) and noise exposure. Retrieved from https://www.cdc.gov/niosh/topics/noise/default.html, accessed June 1, 2021.
Knorr, H. (2021). Market research ID #4427. Please contact marketinsight@phonak.com if you are interested in further information.

Appleton-Huber, J. (2021). Serenity ChoiceTM – protecting hearing while providing best sound quality and allowing the ear to breathe. Phonak Insight. Retrieved from www.phonakpro.com/evidence, accessed June 1, 2021.

McCombe A.W. (2003). Hearing loss in motorcyclists: occupational and medicolegal aspects. Journal of the Royal Society of Medicine, 96(1), 7–9.
National Institute on Deafness and Other Communication Disorders (2017). Listen up! Protect Your Hearing (infographic) Retrieved from https://www.nidcd.nih.gov/health/listen-infographic, accessed June 1, 2021.
Centers for Disease Control and Prevention (2020). Vital Signs – Too Loud! For too long! Retrieved from https://www.cdc.gov/vitalsigns/hearingloss/index.html, accessed June, 2021.