TV Connector: 3 real-world problems it solves
Understanding speech while watching TV is a top need of those with hearing loss. Learn how TV Connector can help improve the TV watching experience for clients wearing Phonak hearing aids.
Did you know the average American over age 65 watches 4.3 hours of TV each day?1
With numbers like these, it's easy to see why understanding speech while watching TV is an important need reported by those with hearing loss.2
TV Connector streams audio from the TV or other multimedia devices directly into compatible Phonak hearing aids. This improves the TV watching experience for the wearer, while allowing others in the room to watch TV at their regular volume.
Using TV Connector with Phonak hearing aids provides your clients with these 3 real-world benefits:
1. Easy set-up. Simply plug into the TV and the wall and automatically stream TV sound directly into compatible Phonak hearing aids.

2. Optimized sound. When TV Connector streams sound to Phonak hearing aids, AutoSense OS classifies the streamed signal as either music or speech and optimizes streaming sound quality.

3. Flexibility to enjoy TV on their terms. The Environmental Balance feature in Phonak hearing aids allows the wearer to adjust the incoming balance between TV sound and environmental sound, so they can hear others in the room along with the TV or watch TV with fewer interruptions
TV Connector: what makes it special?
Watching TV means different things for different people. For some, watching TV brings family together, talking through their favorite shows or cheering on their favorite teams. While other times, TV is intended to be a solo activity, a chance to escape the realities of everyday life and unwind with their favorite entertainment. With this in mind, when developing a new TV streaming solution, Phonak needed to carefully consider these needs.
Phonak introduced TV Connector with AirStream™ Technology in 2017 specifically to simplify the process of using a TV streaming solution. AirStream Technology is a proprietary 2.4 GHz wireless streaming protocol that offers high-quality sound with lower power consumption than Bluetooth Classic.
TV Connector is a versatile accessory. Packaged with both an optical cable and a 3.5 mm stereo audio cable, it is compatible with many TVs, stereos, computers, and other multimedia devices. An unlimited number of Phonak hearing aids can connect to the same TV Connector, to support multiple people with hearing aids enjoying TV together.
References
Stoll, J. (2022). Average daily time spent watching TV per capita in the United States from 2009 to 2021, by age group (in hours). In Statista – The Statistics Portal. Retrieved October 31, 2022, from https://www.statista.com/statistics/411775
Knorr H. (2020). Market research ID 4373. Please contact marketinsight@phonak.com if you are interested in further information
---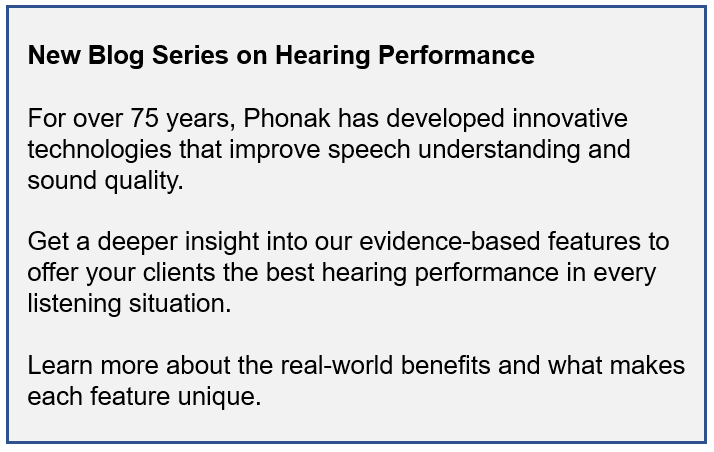 To learn more about the features in Phonak Audéo™ Lumity, we invite you to visit our webpages.