New publication unravels the link between hearing health and physical well-being
International experts provide evidence-based guidance on a holistic, person-centered approach that promotes physical wellness for healthy aging.
Longer lives are one of society's most remarkable collective achievements; they reflect advances in our social and economic development, as well as in health.1
However, many underlying physiological changes occur with increasing age and the risk of developing a chronic disease rises. Indeed, older age is also linked to a greater probability of experiencing several chronic conditions simultaneously.2 So it is perhaps unsurprising that healthcare which considers and manages the complex needs of older age in an integrated way is more effective than services that simply address specific diseases individually.3
It is great to see that hearing healthcare is gradually adopting this holistic approach; and that the industry identified a need for evidence-based recommendations to support hearing care professionals to embed this person-centered care into their daily clinical practice.
New publication provides guidance
Accumulating evidence demonstrates the interplay between auditory function and other aspects of health and functioning. For example:
Cardiovascular diseases and their risk factors (e.g., diabetes, high blood pressure, smoking) increase the risk of developing hearing loss.4,5
Hearing loss itself is linked to significantly increased odds of falling.6
Hearing loss is a potentially modifiable risk factor for age-related dementia in older adults.7
Such evidence has led to increasing calls for hearing care to take a more holistic and interdisciplinary approach, and, as such, to address the broader health needs of patients in order to promote overall health and well-being.8,9
Together with a group of diverse international experts, we took steps towards answering this call to action. Our publication, published in the prestigious Age and Ageing journal, highlights our growing understanding of the range of physical health conditions that co-exist with hearing loss, and discusses health promoting activities that may help to reduce the negative health impact of hearing loss and related health problems.10 We also discuss how this evidence presents a new horizon for interprofessional teams to provide holistic and patient-centered hearing healthcare.
Click on the image below to access the full peer-reviewed publication by D.W. Maidment, M.I. Wallhagen, K. Dowd, P. Mick, E. Piker, C. Spankovich, and E. Urry.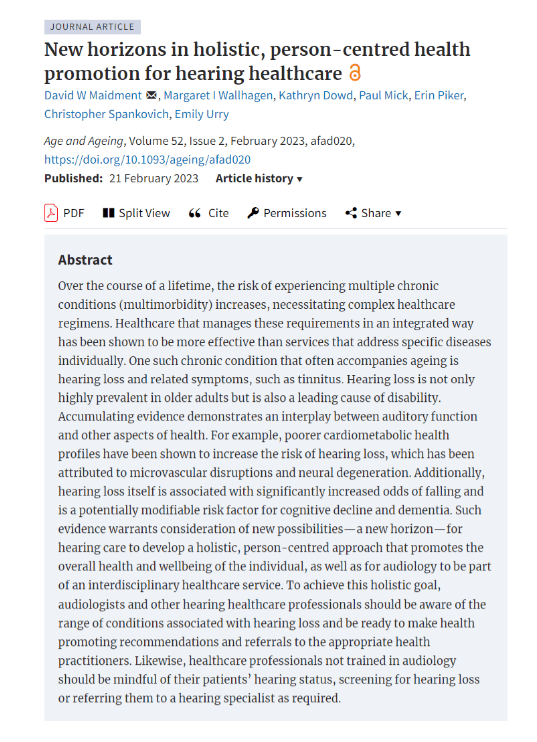 About the author: Prior to joining Sonova in 2017, Emily Urry specialized in the development and evaluation of interventions to enhance the health and well-being of adults with long-term health conditions, such as insomnia and diabetes. In the context of both conditions, a holistic, interprofessional, and personalized approach to treatment, which takes into account broad aspects of a patient's life (e.g. nutrition, physical activity, sleep patterns, family support, mental health and well-being) is adopted because usually this leads to better outcomes for the patient.
References
World Health Organization. (2020). Decade of healthy ageing: baseline report. World Health Organization.
World Health Organization. (2015). World report on ageing and health. World Health Organization.
Low, L. F., Yap, M., & Brodaty, H. (2011). A systematic review of different models of home and community care services for older persons. BMC Health Services Research, 11, 1-15.