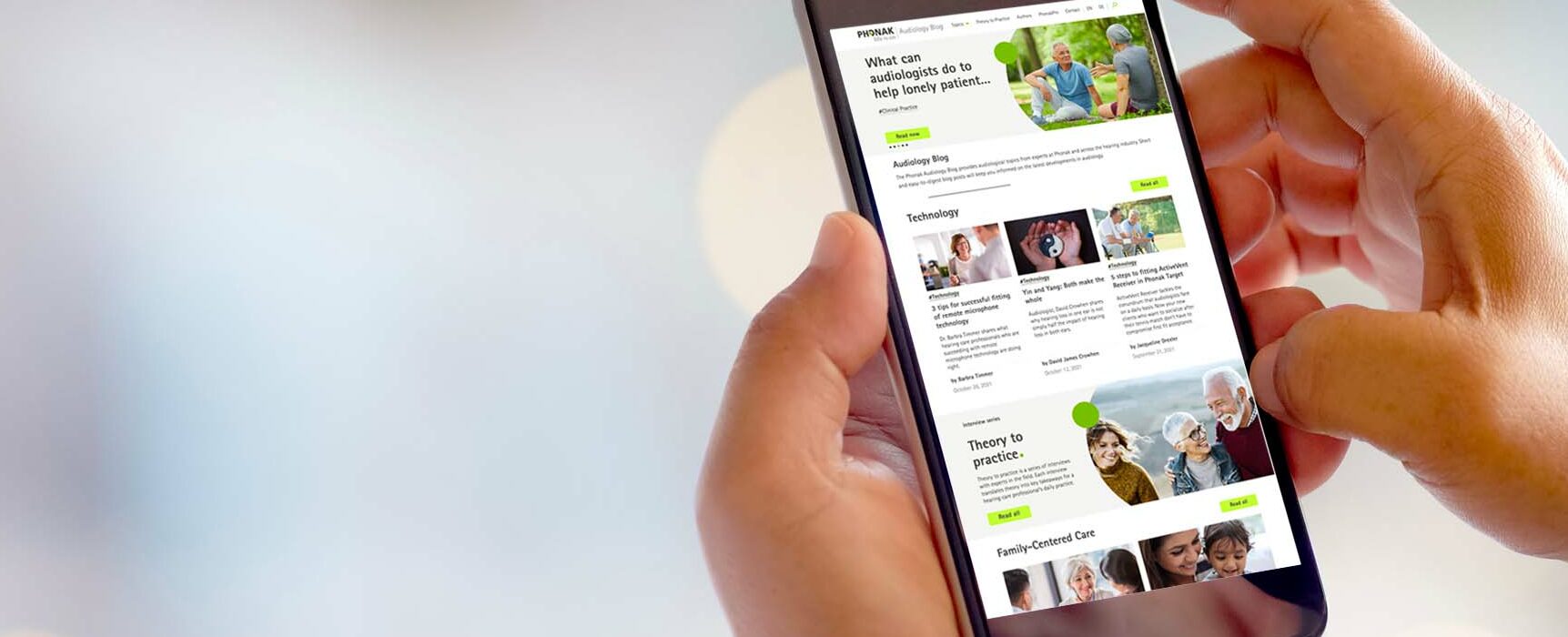 Five reasons to join our community of subscribers
Since 2016, thousands of hearing healthcare enthusiasts have subscribed to the Phonak Audiology Blog for weekly articles that are short and easy-to-digest.
I have three questions for you:  Can hearing aid use slow down cognitive decline?… What are the proven benefits of new features in Phonak hearing aids?… How has the pandemic transformed hearing healthcare?
If you're interested in the answers to these questions, you are not alone. A survey with 152 hearing care professionals has shown that interest in audiological knowledge and personal audiological expertise is high.1 Respondents also claimed that the audiological expertise of a manufacturer has a high impact on their recommendation behavior.1
In 2016, Phonak responded to this need, launching the Phonak Audiology Blog. For five years, the Blog has delivered articles that share audiological knowledge on all topics in hearing healthcare.
What you get when you subscribe
Once you subscribe, you will get an email delivered to your inbox every Thursday with a link to the latest article so you know exactly what was published.
Weekly articles give you:
Insights from experts across the hearing industry
Our authors are as diverse as the topics. Researchers, academics, scientists, engineers, audiologists and marketing specialists, all give a unique perspective.


Evidence behind our new features and products
Every product has research to prove its benefits. You can read the evidence behind our technology, from the researchers themselves.


Best practice guidance
Articles promote best practice in hearing healthcare. Hot topics include how the hearing industry can meet the accelerated need for remote services as a service delivery model.


Evidence on the well-being benefits of hearing well
A series of articles is dedicated to well-being research. Researchers share their latest findings on how hearing health is related to healthy aging and overall well-being.


Updates on new resources and upcoming conferences
Articles give a glimpse of new resources and upcoming conferences. They save you valuable time by including a summary of what's included and how to access them.

How are we doing so far?
Since its launch, the blog has published over 400 articles and 20 interviews, featured more than 100 industry experts and is viewed by up to 5000 readers a month from around the globe.
We invite you to join our community of subscribers. You'll start getting weekly notifications right away.
If you have expertise to share, please contact Lisa.Bacic@phonak.com.
Reference:
Knorr, H. (2021). Market research ID #4395. Please contact marketinsight@phonak.com if you are interested in further information.