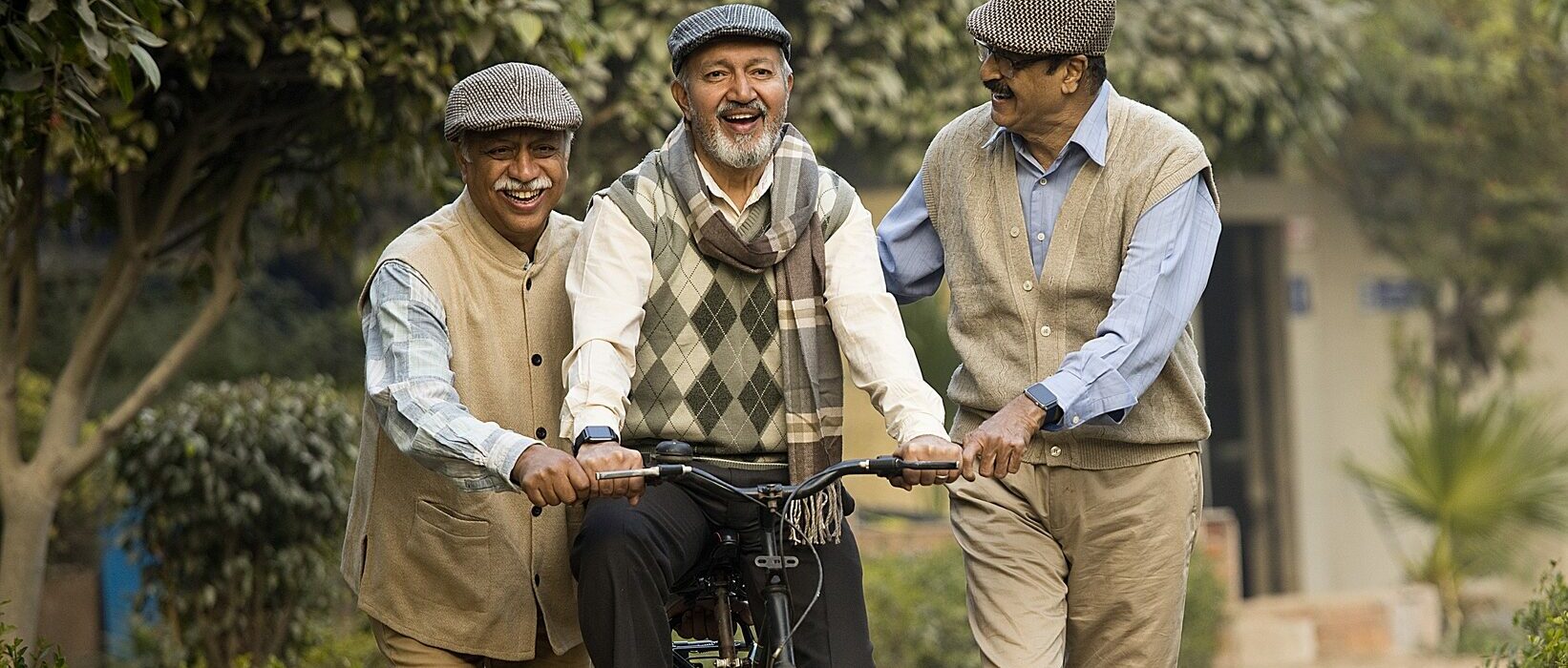 3 ways Phonak is advancing hearing healthcare to promote healthy aging
Hearing health is tied to healthy aging. Learn how Phonak is contributing to groundbreaking studies on cognition and delivering guidance and tools to help you address well-being in audiological care.
Over the years Phonak has had a strong commitment, anchored by our Well-Hearing is Well-Being framework, promoting health aging. Let me take you through 3 key initiatives:
1. Investing in research to explore connection between hearing and cognition
At Phonak, our mission is to advance hearing healthcare and healthy aging. Through our research initiatives and donations of state-of-the-art Phonak hearing aids, we support groundbreaking studies that explore the intricate relationship between hearing loss and cognition.
Two recent studies have significantly contributed to our understanding of the complex connection between hearing loss and cognition.
ACHIEVE (Aging and Cognitive Health Evaluation in Elders) study1
The ACHIEVE study, conducted over three years, revealed groundbreaking findings that demonstrate the potential of treating hearing loss in older adults with multiple risk factors for cognitive decline. Participants who received hearing intervention experienced an astounding 48% reduction in the loss of thinking and memory abilities.

ENHANCE (Evaluation of Hearing Aids and Cognitive Effects) study2
The ENHANCE study is investigating whether remediation of hearing loss in older adults with hearing aids will delay or prevent cognitive decline. Three-year results showed that cognition at 3-year follow-up was stable overall for hearing aid users but declined for the non-hearing aid user group.3
2. Collaborating with industry experts to provide a model of well-being
In 2019, Phonak partnered with researchers and industry experts to develop a Phonak Position Statement about why hearing healthcare is vital for healthy living.4
The group proposed a practical model of well-being that considers socio-emotional, cognitive, and physical well-being as core dimensions of well-being and is tailored for clinical audiology practice. Although hearing loss and communication challenges can impact these dimensions, emerging evidence shows that hearing rehabilitation can offer benefits across these three domains.
3. Developing a program to translate research into clinical practice
To equip hearing care professionals with resources that help them understand the research and integrate the topic of cognitive health into discussions with clients, Phonak developed the ECHHO (Enhancing Cognitive Health via Hearing Optimization) program.
This program offers a range of benefits, including:
• Research findings: Access to the latest studies on the relationship between hearing loss and cognition and an interpretation of the findings.
• Expert guidance: Industry expert guidance on how to promote cognitive health during audiological care and practical strategies to incorporate cognitive health discussions into client conversations.
• Evidence-based explanations: The role of cognition in audiological clinical counseling and evidence-based explanations to help clients comprehend the importance of taking care of their cognitive health while taking care of their hearing.
We encourage you to click here to fill out the form and be notified about its launch.


Did you know?

Phonak conducted research involving 203 hearing care professionals (HCPs) from the USA, Canada, and the Netherlands.*

The results showed that 89% of HCPs rated the topic of cognition as very to extremely important. Additionally, 71% of HCPs encounter cognition as a topic of concern in their everyday practice. These findings highlight the need for further integration of cognitive health discussions within hearing health care.

* Please contact marketinsight@phonak.com if you are interested in further information on this survey.
References
Lin, F.R., Pike, J.R., Albert, M.S., et al. (2023). Hearing intervention versus health education control to reduce cognitive decline in older adults with hearing loss in the USA (ACHIEVE): a multicentre, randomised controlled trial. doi: 10.1016/S0140-6736(23)01406-X
The ENHANCE Study: Evaluation of Hearing Aids and Cognitive Effects. The University of Melbourne. Retrieved from https://healthsciences.unimelb.edu.au/research-groups/audiology-and-speech-pathology-research/hearing-and-cognition-research-program/research/remediation-hearing-aids, accessed August 2, 2023.
Sarant, J., et al. (2023, July 16-20). Cognitive Function in Older Adults with Hearing Loss: Outcomes for treated vs untreated groups at 3-year follow-up [Conference presentation]. AAIC 2023 Conference, Amsterdam, Netherlands.
Vercammen, C., Ferguson, M., Kramer, S.E., Meis, M., Singh, G., Timmer, B., Gagné, J-P., Goy, H., Hickson, L., Holube, I., Launer, S., Lemke, U., Naylor, G., Picou, E., Scherpiet, S., Weinstein, B., & Pelosi, A. (2020). Well-Hearing is Well-Being: A Phonak Position Statement. Hearing Review, 27(3):18-22.