Helping patients move toward more successful communication
Many people feel uncomfortable drawing attention to their hearing loss when struggling in conversations. A new consumer guide provides communication enhancement suggestions, along with steps to make proven communication strategies a life-long habit.
Most of us are familiar with the TV series Lucifer originally based on characters created for DC Comics and first released in 2016. The story is a campy detective drama featuring the Devil himself who has abandoned Hell to run a Los Angeles night club. A police detective finds Lucifer's power to manipulate humans into revealing their deepest desires exceedingly helpful in solving crimes. Lucifer's signature line throughout the series is, "Tell me, what do you truly desire?"
Many with hearing loss would say that one of their deepest desires is to enjoy casual dialogue with friends and family, a stress-free exchange of ideas laced with an easy banter and softly spoken conversational asides.
They long to be a part of the action, to enjoy holiday gatherings, and to leave behind the frustrations and frequent embarrassments of misheard comments and off-the-mark responses. As the classical composer, Ludwig van Beethoven, so aptly wrote in 1802 about his own hearing loss, "For me there can be no relaxation with my fellow man, no refined conversations, no mutual exchange of ideas."
Using communication strategies is not always easy
Even the best fit hearing aids restore a limited degree of lost hearing, often leaving hearing aid users with considerable residual deficit. To help offset the continued communication limitations, many audiologists offer their patients a variety of communication management strategies. But the use of these strategies runs counter to human nature. Dr. Brené Brown the renowned vulnerability researcher sheds light on the reason this is true.
Brown has written that "Fitting in is the greatest barrier to belonging." Despite the fact that we value individuality, research has demonstrated that humans adjust their actions to be more aligned with that of their peers in an ongoing effort to not stand out from the group, to not be perceived as different. And as Brown notes, this effort to fit in decreases our ability to allow our own ideas, our truer self, to stand out. This may be especially true for those with hearing loss.
It's not surprising that when asked to rank self-efficacy or even level of comfort when contemplating the use of strategies to improve communication, many with hearing loss give a fairly low ranking.
The reason is that when those with hearing loss make an effort to improve hearing beyond the limitations of what technology (e.g., hearing aids) can provide, they find they need to set themselves apart from others. They need to draw attention to their difference. They need to discuss their hearing loss. They need to tell others what they need them to do. They need to step outside of the comfort of conformity; and by one's very nature, this is difficult.
A new consumer guide can help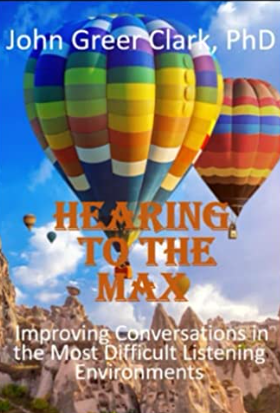 Using communication suggestions becomes easier when we practice a little introspection and consider how things realistically might unfold and how others are likely to react. And this is exactly what is offered the reader in a new consumer guide, Hearing to the Max. Readers will find that when considering the use of communication strategies, they can get past an instinctive conformity.
Through patient case stories, Hearing to the Max sheds light on how to confront the frequent nagging fears that hold people back from tackling what may seem too difficult or too uncomfortable to do. Guided instructions are provided on rehearsing and mastering communication enhancement suggestions before using them in the "real world" and are given along with steps to make proven communication strategies a life-long habit.
Hearing to the Max is available now through Amazon.com at a 15% discount through May 31, 2022, in recognition of Better Hearing and Speech Month.
We invite you to read a previous blog post by Dr. John Clark, 'Looking beyond hearing.'